TOP 50 SLOTS TO PLAY IN 2022 (MEGA LIST: 31-40)
Welcome back, intrepid slots travellers, for our next edition of the SlotsLV best online slots to spin in 2022! We hope your New Year's was as fun as it was profitable with our last edition of the Mega List. It's already that time again, and if you enjoyed 41-50, then you're going to be in for a real big treat with the latest batch of the countdown.
Missed the last Mega List? Check out 41-50 of our top 2022 online slots.
If you've not yet made a New Year's resolution, then maybe 2022 is a great year to commit to making some more time for yourself. If you can carve out some regular hours on your calendar that are just for you, then we've got the perfect slots to complement your comfy clothes and your relaxed space. Here's 31-40.
40. GODS OF GIZA ENHANCED
You're trudging through the desert sand. Far off in the distance you catch a glimmer of something, and through your squinted eyes, you can't be sure it isn't just another mirage. As you approach the source, the drum beat taps on your ear, the flames become clearer, and these temple doors, no doubt built by the Gods of Giza, are open-mouthed and beckoning you inside.
Among the hieroglyphs, you spin through Egyptian symbols. The scatters and free spins ring over four reels and four rows, and as the reels themselves rotate four times at 90 degrees, you know your journey has been worth every step.
39. PANDAS GO WILD
There are pandas of all kinds frolicking through this soft and cuddly 5×3 game. They're munching on bamboo, rolling around with a giggle, even hanging around upside down to try to get a smile out of you. The pandas aren't the only wild ones in this forest; a Koi fish that makes a splash on reel 3 expands in place to stick and cover the entire reel. A pink lotus scatter blooms with 10 free spins, and bamboo bonus symbols trigger a bonus game which could award up to 300x your stake. Just how much can a panda bear?
38. 8 LUCKY CHARMS
We're not through with the peaceful vibes and the zen just yet. In 8 Lucky Charms, this time you're twirling under the warm sunshine, sipping tea with Chinese nobility. Between sips, the empress tells you tales of a wild tiger that transforms into a dragon before multiplying your winnings by 3x or 5x.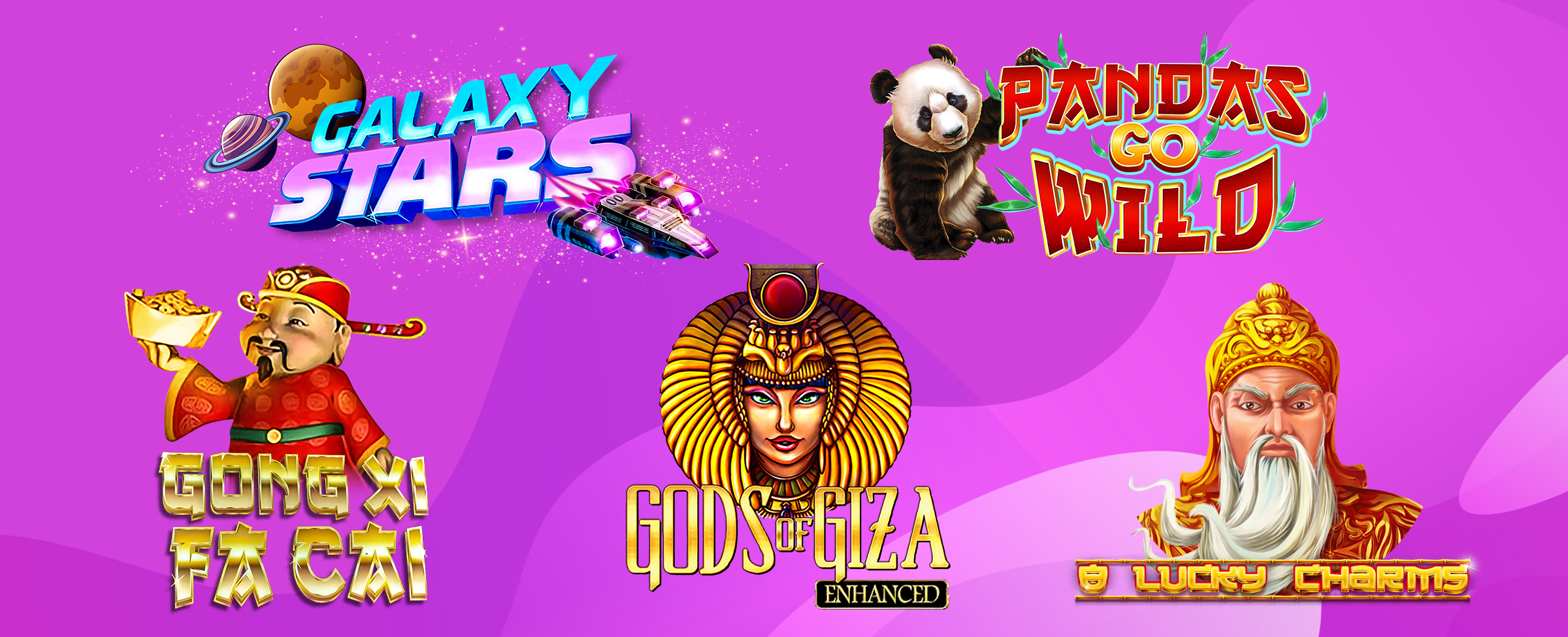 You listen on, enraptured by the tales of this land. Once you hear of the dragon that expands over reel 3, and of the maneki-neko bestowing the spinner with free spins, you know you've found a truly special place of peace with this SlotsLV 2022 slot.
37. GALAXY STARS
Your spaceship is ready, and the crew is waiting just inside the doors. As you take your seat in the cockpit, be sure to buckle up tight. Galaxy Stars could be a profitable ride, but it probably won't be a smooth one! As you hurtle through the blue-black void of space, you'll zoom through Nexus Multipliers and Galaxy Spins. You may even finally grab ahold of that lucky star you wished on long, long ago, and it might even gift you three to six Wilds on the reels.
36. GONGXI FACAI
Gongxi Facai literally translates to "wishing you enlarge your wealth". That couldn't be a better motto for this slot, nor a better way to start the new year off right! CaiShen sits above the reels holding a golden bowl of gold coins which are ready to overflow at a moment's notice.
This god of wealth has granted you 243 ways to share in his fortune, but maintains control over your payday wins. But, he is a generous god, and he believes in the free will of his players, too. Whenever you land three or more golden scatters, you're granted the choice of which set of free spins and multipliers you'd like to spin for. This is one choice New Year slot!
35. GODS OF LUXOR
We're back in Egypt, but this time there is no mirage to distract you from the mystical scene. In Gods of Luxor, these reels are as real as the stone temples they spin beneath. Meet the crocodile god, Sobek; the serpent god of chaos, Apophis; the feline goddess, Bastet; and the falcon god, Horus. They will make their presence known along these five reels as they see fit.
After a winning spin, the gods may agree to bestow you with the Wheel of Gods, which awards a gracious seven fixed multipliers. The wild is a scarab, and it can substitute other symbols for a possible win, multiplying the prize by 2x.
34. REINDEER WILD WINS
We're just entering the coldest parts of winter, and this herd of reindeer led by a bow and team of snow huntresses invite you to follow them in a trek through the snow. There are 1,024 ways to sink your snow boot in and kick up a prize.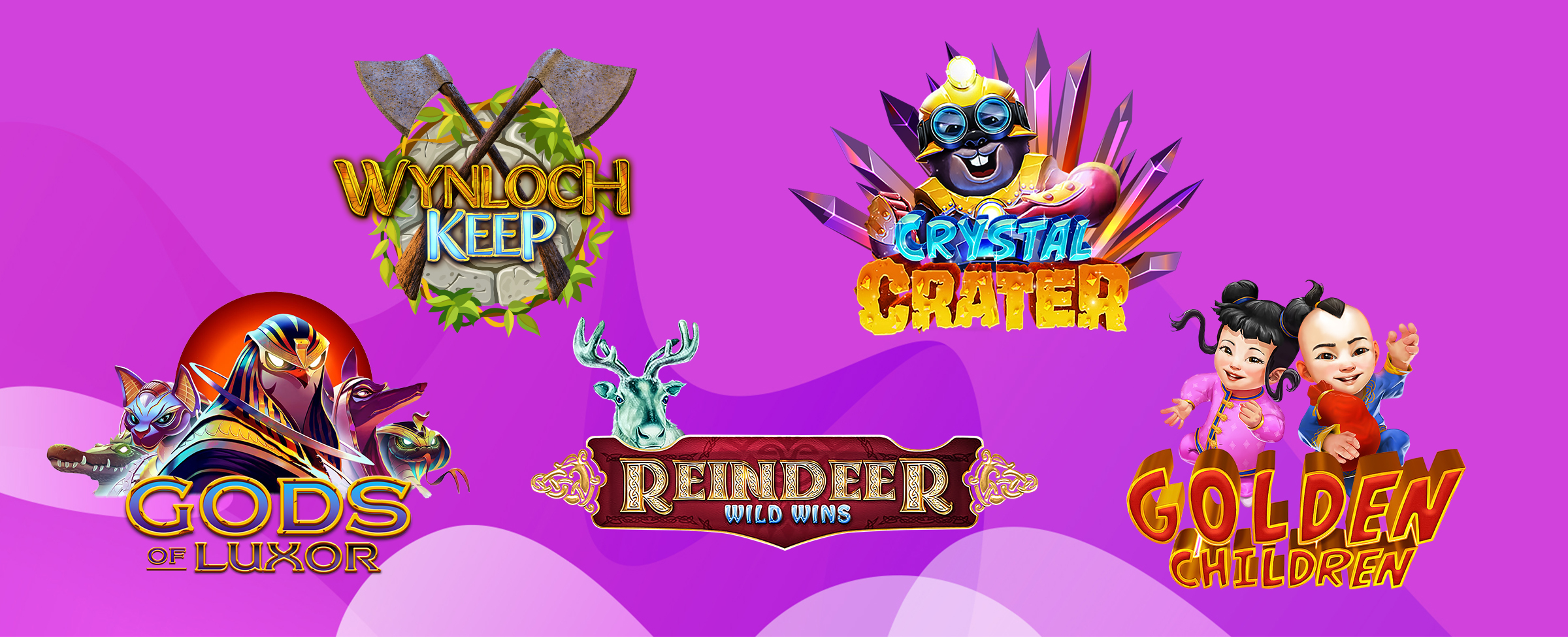 As you trudge dutifully behind the lead huntress with crimson red glowing behind her hooded head, she may ask you to take hold of her crossbow. When you do, aim it directly at the free scatter symbol. If you manage to knock down five, you get 20 free spins with wild multipliers that can combine to reach up to 64x.
33. CRYSTAL CRATER
As you're sitting under the sycamore tree, soaking in the sun and feeling the grass between your toes, you catch a glimpse of a furry tail; a chipmunk appears with a strange yellow hat, coaxing you forward like Alice's white rabbit.
As someone who's always up for an adventure, you don't hesitate to jump up and follow. This clever little creature leads you to a secret cave called Crystal Crater – you had no idea it was hiding behind your home! You follow him inside, and what you find beneath the earth has your eyes sparkling with delight and total amazement. Who knew all these gems, scatters, stacked Wilds, and even a bonus game – with its Mystery Choice pick with random wilds and free spins – were just under your nose!
32. GOLDEN CHILDREN
As a person deeply connected and committed to others, you'll want to use the new year as an opportunity to unleash these online slots real money gifts into the world, and attract more and more luck to your benevolent, glowing aura.
These Golden Children are led by a merciful mother, and it is said that whoever they choose to follow will experience wealth beyond their wildest dreams. As they cheer you on over five reels and four rows, you have 100 ways to trigger Wild Scrolls Free Spins with random Wild reels, and stacked symbols to help pile up the good luck and to save plenty for the entire year.
31. WYNLOCH KEEP
It's a dark and dreary night, and you are wary from your journey through the lands in Wynloch Keep. Your gaze wanders over the forsaken land of crumbled stone, and settles on the castle in the distance. This very castle is where your treasure is waiting, and the entire reason for your dangerous trek.
On your way to the ultimate Jackpot Chest of 2,500x your bet that's hidden somewhere within the gates, you'll be wielding your sword through locking symbols, treasure coin scatters, free spins, the Tower of Power featuring random wild reels, and the Treasure of the Keep for a prize up to 100x your stake.
2022 features 202-you!, and with a brand new calendar up, these are the brand new slots to expand your horizons, open up your arms, and say come at me, world! for the next 365 days to come. This is only the beginning of even more SlotsLV most popular slots to enjoy throughout the year, so check back next week to see our top recommendations to round out January, so you'll be spinning anew from Monday to infinity.