Spring Has Sprung! It's Time For These Fresh Slots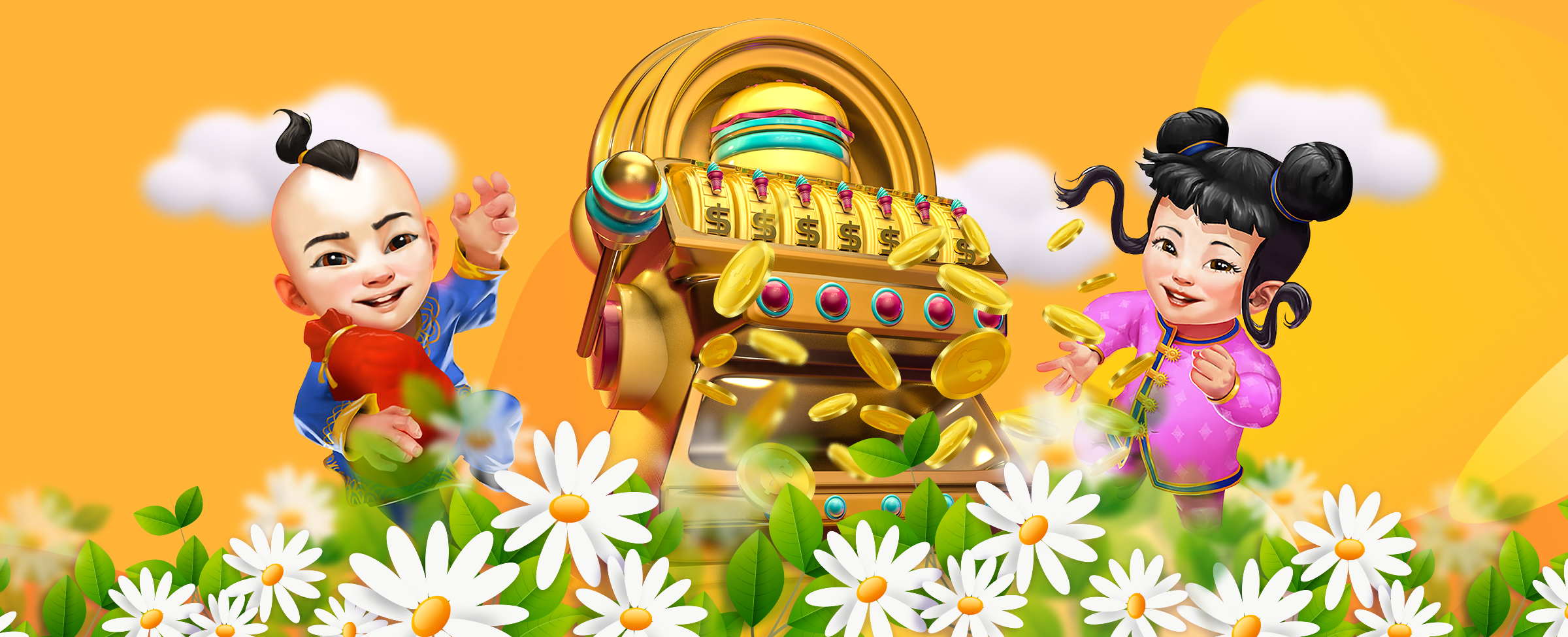 If you peek outside your window in the first days of April, you just might see the first of the year's daisies sprouting up through the richly fertile earth. If you close your eyes and concentrate, you might even catch their aroma floating through the gentle breeze to land on the tip of your nose.
That's how we really know it to be true: spring is in full bloom outdoors, and that means spring is in full bloom on our game menu, too! Everything is rising up anew – including new spring slots! – so swing open your windows, drink in the smell of grass and cherry blossoms, and discover something fresh.
These crisp, spring-ladden SlotsLV new slots are blooming right now, and each and every one of them is ripe for the picking. Are you ready to pluck out their prizes?
Genesis Island
In the beginning, before humans roamed the earth, the planet was run by beasts. From towering gorillas with saliva dripping from their fangs as they spot their dinner, to almighty dinosaurs with scales as tough as bone, crunching the foliage with their whippy tails. Are you ready to call on the beast in you? Now you get the chance to enter their realm before time and trudge your way through the mist.
The leaves part way as you enter the 5×3 slots board of Genesis Island. Your senses are on high alert with massive mammals and reptilians rustling the brush surrounding you, and your reels emerge and combine to create mega reels. Primal Wilds spring out randomly as you spin, turning some reels completely Wild; and a 3×3 scatter may rumble its way to the surface, triggering the Evolution Mega Spins.
If you thought you knew all that planet Earth has to offer, just wait until you experience this island as one of our newest and most unique slots to play online!
Gold Rush Gus and the City of Riches
Your old pal Gus from Gold Rush Gus is back with the same bushy mustache and go-getter attitude, and this time he's leading you to the jungle for another dig in the new online slot, Gold Rush Gus and the City of Riches.
Buried just beneath the earth are the ancient relics of a civilization that has long fallen into obscurity. Its original inhabitants have left behind clues to find their treasure, including two very special (and familiar!) keys. If you unearth these keys, you'll hear the whispers of the spirits assuring you that you're on the right track.
A treasure chest appears via the keys and you are awarded one of three prizes, including a Coin Gamble Game, an Instant Win, or the big Progressive Jackpot that Gus is so famous for.
We'd go as far as saying that this new game adventure with our old pal Gus deserves a spot on our list of top slots to play in 2022!
…Speaking of pals, when you tell friends about SlotsLV, you could get a referral bonuses!
Raving Wildz
When spring is in full bloom and the sun is bright in the azure sky, it's only natural that you'd find yourself in the mood to let loose and throw down some dance moves.
You can get in the groove from wherever you are, but if you like the sound of punchy beats and lights that keep to the tempo, then Raving Wildz has just the stage for you. This dance floor is all about head-turning dance moves and beat-dropping prizes. You won't be able to contain yourself, and soon you get off your seat to bust a move!
In fact, you happen to be the dancer the whole venue has their eye on. Your purple, furry leg-warmers, short shorts and cropped top already demand enough attention as they fly around in rhythm to the techno, but it's actually something else that has everyone enraptured… the Wilds on the main dance floor can randomly multiply up to 3x, and the Wilds inside the free spins round will stick, stack, and kick straight up with an increasing multiplier.
One thing is for sure: you're bound to have a raving good time in this SlotsLV online slot!
Riches in the Rough
In this season full of promise, you can't possibly miss all the treasure sprouting up from the dirt in the form of pansies, lilies, and tulips. What you might have missed, however, are the treasures that sparkle even brighter below the surface of the earth. Luckily for you, the SlotsLV new slots list knows just where the treasure is hiding – inside Riches in the Rough!
These magnificent gems are bursting with vibrant colors that rival the daffodils stretching out in the park, and you've got 243 ways to find them. Using your pickaxe scatter, you'll know you're close when three of them strike something solid. You've just struck the big spot of gems, and now it's time to dust them off in the free spins round to unveil up to 20 free spins and multiplying Wilds.
Spring is in the air, but those riches are underground at SlotsLV!
Caishen's Fortune XL
Caishen is the famous Chinese god of wealth. He is generous at any time of the year, but when spring rolls around, Caishen and his ever-giving nature just can't resist the desire to spread even more prosperity in Caishen's Fortune XL.
April is the perfect time to spin this online new slot with this god. In the base game dressed in richly pleasant red and gold, Caishen himself can be seen spinning through the reels along with a Chinese symbol scatter. When Caishen releases that scatter, try to grab at least three.
If you pass that hurdle, you may enter Caishen's Fortune Free Spins, where you'll see what true fortune is really about. You are given the choice of how many free spins and the multiplier types you will work with, and if it's your lucky day, Caishen doesn't waste a second before lavishing his favorite human with all of his spring fortunes!
Orion
In Greek mythology, Orion is the son of a poor shepherd named Hyrieus. Thanks to Hyrieus's generosity to the gods when they visited his field, Zeus granted him a special son. Orion grew up to become a strong and handsome hunter who skillfully slays ferocious beasts. That is, until Gaia, the mother of the animals, released a gigantic scorpion on him to protect her creatures.
In this ancient, mythological slot, you witness first-hand the tale of Orion, Gaia, and the scorpion as it comes to life over the reels. These gods have channeled all the power of the Greek legends, and you scoop some up for yourself when you enter the free spins round via the scatter.
In the game's feature, any portion of stacked Wilds that appear before you can trigger the Wild Slide, which moves to fill the entire reel. If more Orion logo scatters appear during free spins, they trigger eight more spins, and the journey of Orion and Gaia continues along with your winnings.
Remember that the best way to spring into new slots and take advantage of blooming wins is to look over the top casino promotions to maximize your winnings. There is often something new to discover there as well, so you'll soon be well on your way to stringing together your own fresh bouquet of prizes! Plus, when you deposit with crypto like bitcoin, you can get an even bigger Bitcoin casino bonus too!
---
Looking for your next spring slot? Play our Hourly, Daily and Super Hot Drop Jackpots!