Awesome for Autumn: Fall Right Into These New Slots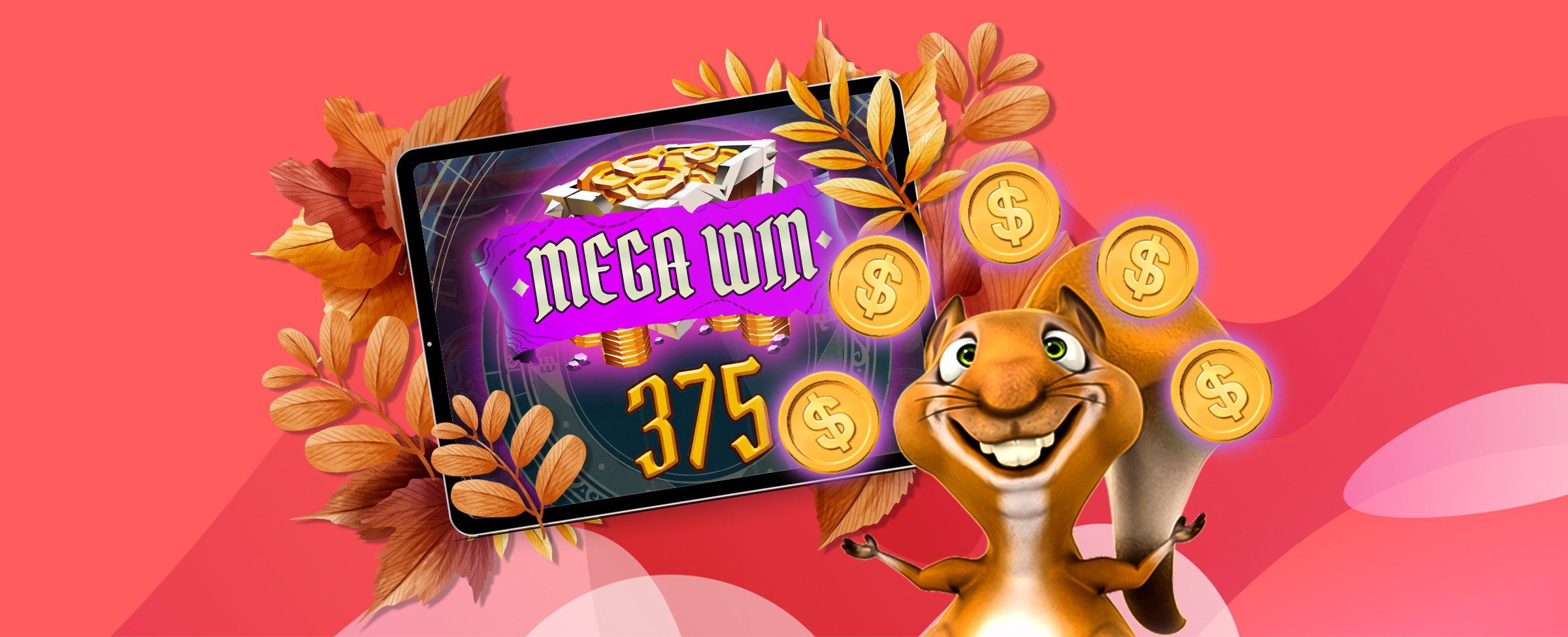 As the season's shift, the green leaves begin to transform into warm tones of yellow, orange, and red. Acorns tumble to the ground through a gentle wind, and squirrels scurry about, with birds flapping their wings as they migrate overhead.
Among all the new activities and new colors of fall, SlotsLV new slots are transforming your gaming experience right alongside the season.
Brand-new games have arrived on the crisp fall breeze, with fun features like "pick me" bonus rounds, randomly awarded multipliers, and free spins. Plus, jackpots brighter than a mountain of autumn trees are causing a stir among players at SlotsLV Casino.
It's time to take a break from the summer heat and switch up your usual batch of faves. Let's see what new games we've raked together for you to play!
---
Grab your coziest sweater, load your favorite games, and hit play on this SlotsLV Fall Spotify Playlist.
---
Pirate's Pick
There's no better way to draw on that crisp, fall air than to breathe it in on the wide open seas! You're not alone on these turbulent waves, however; a team of three pirates is along for the autumnal ride. (If you'd like to refer a friend to join the crew as well, SlotsLV will include a bonus of extra booty, so don't be backwards about coming forwards!)
Between swinging machetes, slugging a bottle of rum, and pondering a treasure map, life on the high seas offers plenty of opportunities to strike it rich, but it's not the waves or the weather, or even the other passing ships that decides your destination: nosiree, the real choice comes down to the Pirate's Pick!
If you're the pirate who gets to pick in this slot, then shovel bonus symbols will appear on reels 2, 3, and 4, and a pick me game splashes up on the deck from the rolling waves. You get to use your hook to pick from 20 tiles, and if you uncover the same prize three times, you'll keep all that free spins loot for yourself!
Mystic Wilds
If you take a walk through the autumn-hued forest, the crunching twigs, rustling leaves and chirping birds join together to create a lively, pleasant soundscape. If you take just one step farther into the thickest brush, the natural music ascends to something new, and a mysterious melody envelopes your senses with an ethereal flute.
You have entered into the world of Mystic Wilds – our new online slot – and the laws of nature are bending to reveal their feature-filled secrets and envelop your senses with a wild surprise.
There are 243 paths in the forest to slowly reveal the secrets of the wood. To guide you there, a bear, jaguar, lizard, and eagle are possessed by forces emanating from the ancient trees, and they wear their auras as halos around their heads.
A tribal oracle holds a crystal ball which is your scatter in this SlotsLV online slot. Landing 3, 4, or 5 of them will be your entry ticket into free spins, where you take control by selecting one of six types of free games with multipliers. You could also leave your future up to chance, and the Mystery Choice will ultimately decide your fate.
Reels of Fortune Hot Drop Jackpots
Maybe it's the nearing of Thanksgiving coming up in November, or perhaps it's the nourishing fall harvest of this time each year… whatever it is, something about fall makes us feel rather fortunate, and the Reels of Fortune slot with its Hot Drop Jackpots has the very type of gratitude we all like to see!
In fact, a classic game like this is the best way to win at the casino with just $20 or so, and this is why.
Features are plentiful within these three reels, and a little bet can take you a long way. A Bonus Wheel can award you multipliers up to 500x, and a glimmering Wild diamond awards a multiplier of 2x or 5x. While these slots features are bountiful, there's still more to unearth!
Three SlotsLV Hot Drop Jackpots are in play as well, and each jackpot must drop by either every hour, every day, or by the time it reaches $250,000, despite the size of your bet – and that is the absolute best way to feel this game's fortune in the fall!
Ming Legend
During its 276-year reign from 1368 to 1644, the Ming Dynasty presided over a flourishing civilization that grew its wealth by trade, art, literature, and porcelain. It was one of the most prosperous countries of its time, and its developments like the Great Wall of China have been marveled at for ages since its demise.
Achieving such great status did not come without blood, however, and warriors covered in layers of armor swung their large swords to make their gains. In Ming Legend, one of our new slot games, you come face to face with one of the brave warriors as he guides you through the battlefield on a hunt for the treasure that Ming legends are made of.
Scatters can be found among the weapons of war, and up to 30 free spins with multipliers reaching 10x are rewards for brave warriors that make the legend be remembered for ages.
Speaking of legends. Maybe you could become a legend of your own with a SlotsLV big win on online slots… our players have done it before, and with epic games like this, they can do it again!
Play New Slots with Crypto
For the best experience, and in the spirit of changing the season, you can enjoy new slot games at SlotsLV to their fullest when you switch to gaming crypto.
There's a gaming crypto that's right for you, whether it's Bitcoin, Ethereum, Litecoin, USD Tether, or Bitcoin Cash. You can use them to make your transactions faster, more private, and more secure. Plus, your winnings are processed and in your pocket within minutes, so you don't have to waste any time celebrating the wins from these new online slots!