Sizzling New Slots: Fresh Off The Reels!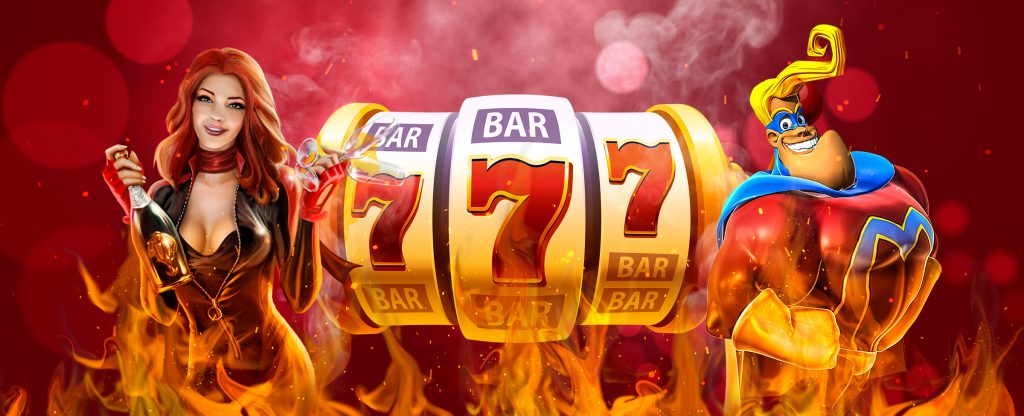 We each have our utility belt of favorite slots to play at Slots.lv Casino, including classics and the most popular games for mobile. Even so, you may find yourself yearning to try on something a little different every now and then. We all like to keep things fresh.
At Slots.lv, we make finding the freshest stuff easy. We've got sparkling new slots lighting up the reels faster than you can play them. The game geniuses have been busy developing creative themes and inventive ways for you to win with each week's batch of brand new games. Here we have for you the roundup of August's new releases, plus our very special Slots.lv review of each one. That way, you can pick the right game to try on for size and perk up your bankroll while you're at it!
Red-Hot New Slots to Play

Starting with the newest of the new, these are the games that are making a stir in the "New Games" section at Slots.lv Casino.
Savanna King XL
Deep within the Savanna, baobab trees loom over 5 spinning reels, 4 rows, and a kingly 1,024 ways to win. The lion might be the King of the Savanna, but he wouldn't get far without his fellow wild friends.
The giraffe, zebra, and rhino roam freely within the game. The scatter symbol is roaring with opportunity as it awards up to 25 free spins when you land 5, triggering the Stampede Free Spins. During the feature, the reels robustly tremble as stampedes of wild animals take over the screen. Wilds on reels 2, 3, and 4 come alive on the reels along with multipliers up to 64x.
Galaxy Stars
If you've ever dreamed of commanding your own ship on a journey through the stars, then this new slot is one you'll want to buckle in for.
A prize pot of 5,000x your stake is soaring through the star-studded atmosphere just short of the speed of light. Just as space is full of mystery and surprise, Nexus multipliers are ready to strike at any spin and award you up to 8x your stake.
If the stars align just right, the wild Lucky Stars may glisten over the reels randomly after any spin and replace other symbols to help you along for a win. Reach for the stars, and hopefully catch a bonus symbol instead, as it can skyrocket your wins. Inside the Galaxy Spins Feature, the bonus symbols can help award you up to 10 free spins and blazing wilds.
Solfire
There is no other new game out there more intriguing than Solfire – and it's available on Slots.lv mobile and desktop just the same!
Deep within an ancestral South American cave, an ancient leader named Sol takes you along on an unforgettable quest to unlock the power of the gods. There are 13 reels in this game with 9, 1-payline mini-games held within one magical symbol.
Sol uses her powers to shoot balls of fire and light at the moving stone symbol, smashing open the game's symbols and revealing your wins. Your wins can reach all the way up to 9000x your bet if the gods are in your favor and the Colossal Tablet wilds appear on all 13 reels.
Super Wilds XL
What would you do if you had endless super powers to rule the world? Why, pocket a slice of the money, of course!
You and your team of noble superheroes are flying through the streets of your city, on the hunt for bad guys and epic prizes. As the name suggests, Super Wilds XL isn't all about you saving the world; the wilds are just as full of spunk and goodwill as the heroes themselves.
All it takes are 3 wilds to trigger the Super Wilds Free Spins feature. This starts you off with 10 free spins. You have one of four Super Wilds that could land here, including the tripler Multiplier Man, the doubler Multiplier Man, the expanding Expando Man, or the extra free spins The Spin Twins.
Most Popular Games

Gold Rush Gus
Go back to the gold rush where prospectors scoured the earth in search of riches – but dig it from the comfort of your couch, of course. Digging with Gus is akin to playing a full video game, complete with 3D animation and a racing side-game.
Gus is the type of guy who'll have your back in any situation, and that's especially true when you land a losing spin. Lava pours out from the volcano and cracks open your losing symbols, replacing them with fresh new ones. What a guy, that Gus!
Even more enticing than Gus's good vibes, the diamonds and the gems, are the two mini-jackpots and the one mammoth progressive. Sounds like it's time to go digging!
A Night With Cleo
Cleopatra was famous in Egypt for her intoxicating allure of beauty and power. In this game at Slots.lv Casino, you get a chance to experience Cleopatra's sensual trance.
As she entices you with her lustful gaze and a randomly awarded progressive jackpot, you'll be collecting free spins with up to 3x multipliers when three key hole scatter symbols land on the reels. After any winning spin, you're cordially invited to join Cleo in her private chambers with the Gamble Feature to play a little game.
Each correct guess awards you double your winnings, plus a bit more skin from Cleo. Guess correctly 5 times, and the biggest prize will burst out of Cleo's top… and we're not referring to a multiplier, if you catch our drift.
Golden Buffalo
Next up is a slot that's famous for paylines and multipliers! The famous Golden Buffalo swiftly runs toward this game of 6 reels and 4 rows, and only the most agile of bettors can reach out and grab him. The air is still and the old canyons of the west are buzzing with spirit.
With an atmosphere of mystique and magic, the wise animal companions of the buffalo spin through the reels with intense and gleaming eyes, offering up a mythical 4,096 ways to win. Free spins run aplenty in the wild canyons, and you can catch up to 100, plus when a wild lands during free spins, you can trigger multipliers up to 3,125x!
777 Deluxe
As one of the most sought after games at Slots.lv, any slot review wouldn't be complete without this gem of a game.
777 Deluxe is the perfect marriage between a retro slot machine and modern design, and the result is appealing beyond belief! The classic symbols you love like fruits, bars, 7s, and cherries, are infused with a shot of 3-D bang.
Transparent reels give this fluorescent hued game a mysterious air, but it's the question mark symbol that really sets the tone. When you land 3 of them you trigger the bonus round where you get to spin a wheel for the chance to win eight prizes, including a big progressive jackpot.
As with all of the most popular games, each payline, multiplier, and feature is ready to go on Slots.lv mobile – no special download required! Just access the website through your phone's browser to start playing. Once you see a game you like and you're ready to play new slots games, don't skip a beat and jump on in!