Sizzling New Slots: Fresh Off The Reels!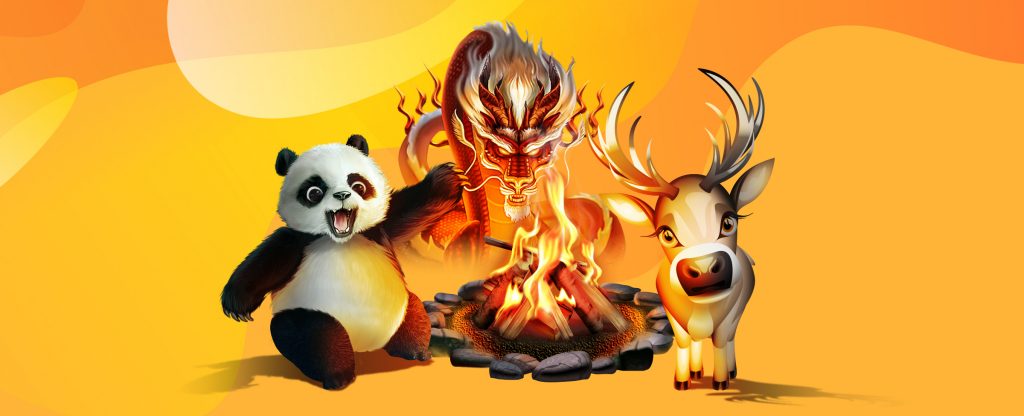 With the air taking on a distinctive chill and the heaters slowly firing up, you move just a bit faster to escape to the comfort of the indoors. So when that treasured leisure time rolls around and you can't seem to shake the shiver, we've got a fiery, new list of the perfect slots to warm you up and ignite a spark of fun… and perhaps add a little padding to your pocketbook while you're at it!
These Slots.lv new slots are hand-selected to provide you with the most warmth and sizzling prize potential you'll need as November rolls into winter, kicking off the celebrations that are dusted in snow. It's time to snuggle up in a comfortable sweater and make some room beside you on the couch for your bank balance to grow.
Wynloch Keep
It's a dark and dreary night. You stand atop a jagged stone, your cape torn from the battles that led you here. The fabric sways gently beneath your metal shield and the one weapon that survived the fight. Your temperature is rising with the fire of desire as you gaze beyond the tumultuous haze to the object of your crusade: the Castle of Wynloch. 
Every moment in your life has led to this. You're on a quest to overtake the castle and claim four different jackpot chests paying 25x, 50x, 250x, or the ultimate 2,500x in Wynloch Keep. It will be no easy task, and you will soon discover that this 5×3 castle is not at all what it seems. 
Starting with 5 reels, 3 rows, and 15 paylines, the castle grounds can expand the reels to 6 and the paylines to 30 when the right shield, stone, chalice or sword land on the reels. If those symbols are involved in a winning combination, they lock in place while other symbols spin around them, expanding the reels with every spin and adding more paylines. Are you tempted to try this new online slot?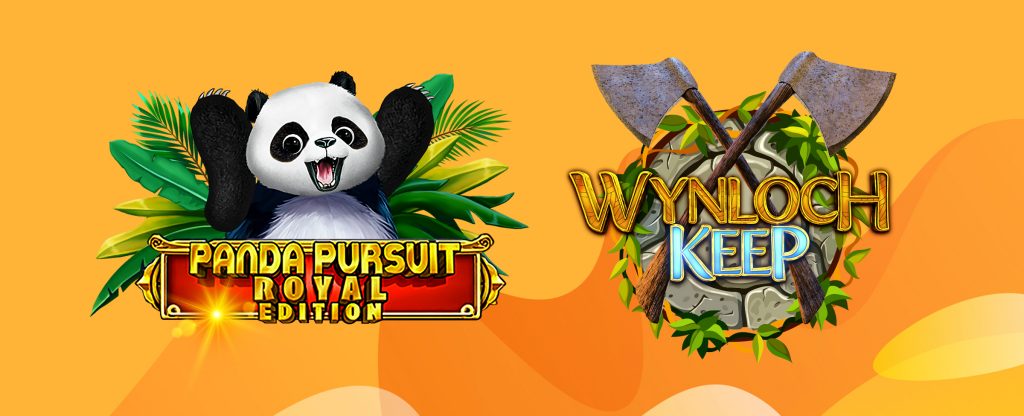 Panda Pursuit: Royal Edition
Wipe the sweat from your brow as you retreat victoriously from the castle, because now it's time to shift gears and put some cuteness and light back in your life.
The panda in this game is giggly with delight. He's beckoning you to carouse to and fro in his colorful meadow and get nice and warm inside his cuddly embrace. Chipper oriental music puts a sway in your hips and a skip in your step, and the fish, turtle, baboon, and bamboo-munching panda are all beaming with joy as they clink into place.
As you frolic through the swaying flowers of the 5×4 meadow to pursue the panda and his warming bear hugs, you may stumble upon free spins reaching up to 25 by way of the scatters (which is an upgrade on the amount of free spins in the original Panda Pursuit). When you do, wild symbols can randomly add 2x-4x your bet, reaching up to 64x total when multiple wilds join together. 
10 Times Vegas
When it starts to get cold, we all dream of a warmer place every now and then. Las Vegas is the land of sunshine, and it's warm enough to leave behind your jacket and stay out all night on the lounge chairs outside. Sounds like it's time to grab your friends and head to 10 Times Vegas!
Your room at the Bellagio is ready for your grand entrance. The mini fridge is stuffed and a swanky outfit is laid out on the bed. The casino on the bottom floor has a slot game just for you, and the servers are waiting with mixed drinks on their trays to welcome you in and get you spinning on Vegas' most lucrative slot. 
There are only 3 reels, 3 rows, and three winning lines in this game, and the symbols you know and love like horseshoes, fruits, and BARs. Each symbol has its own paytable, including a Wild symbol which comes with multipliers to amp up your wins on any line, and a Jackpot symbol that triggers a growing progressive jackpot. Fans of 777 Deluxe slot will love this one!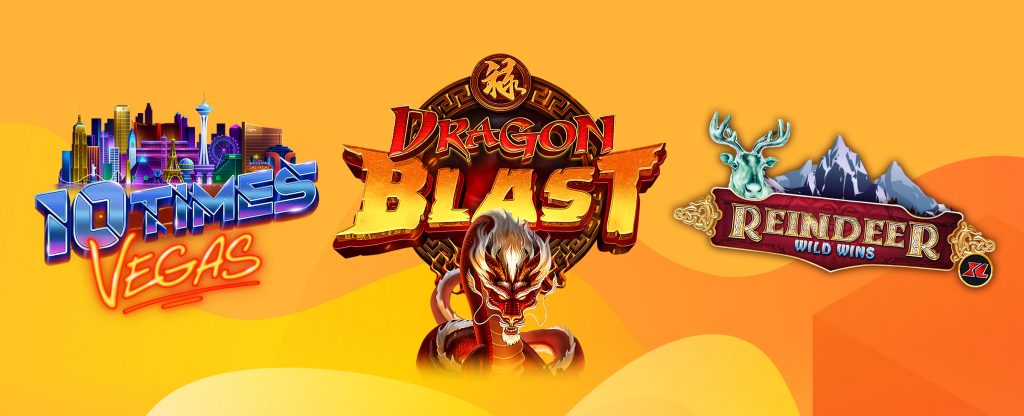 Dragon Blast
If you're feeling chilly, then carefully step a bit closer to this Slots.lv new game. A little closer… just a bit more… then stop! The fire of this cave is raging strong and loud, and it's hot enough to leave a mark if you get too close. In Dragon Blast, a beastly dragon guards this fire-raging pit, feeding the flames with his piercing eyes and blasting the free spins orbs with gusts of deadly flames. A ball of red-hot fire swirls below the 5×3 game, warming you up with every tap to ignite the spins. 
If the fire is making you sweat, then the scatter symbols are really going to crank up the heat and drench your hairline. Landing three or more scatters expands the reel set in a flurry of free spins. Reels 2, 3, and 4 merge together to form one gigantic, hot symbol that's bursting with fire and offering more chances to win.  
Reindeer Wild Wins XL
For those who are looking forward to the months getting colder and wouldn't mind getting their toes a little frozen in some freshly fallen snow, then Reindeer Wild Wins XL has a spot just for you on its extra-large sled. 
 Just like the original Reindeer Wild Wins game, you're not alone in the icy village with 5 reels and 4 rows. Three huntresses wielding special weapons are emitting a frosty glow. They're leading the way as you stomp through the snow in search of the elusive wild reindeer. 
There are 1,024 ways to track down the reindeer and his wild wins. The original game had fleets of players shivering with delight over the frosty free spins, and the new, XL version has even more spins buried beneath the fluffy snow. You can get up to 25 free spins with wild multipliers by landing scatters, possibly resulting in awards up to 64x.   
If the chilly fall weather has you yearning for more slot games to warm up your wallet and fire up some more fun, then try these brand new games at Slots Casino. Open them up on Practice Mode to warm up the tips of your fingers and toes, then go all the way in with real money slots play to crank up the heat in your bank account, too.