TOP 50 SLOTS TO PLAY IN 2022 (MEGA LIST: 21-30)
With our third instalment, we're officially over half way through the top 50 SlotsLV best online slots for 2022!
If you haven't tried all the games yet in the Mega List, it's not too late to curl up with your PC or mobile and spin through a few new ones. You can start with our last list (31-40) of our top 2022 online slots. If you have been keeping up with us, slot by slot, then you're more than ready for another batch to keep you busy!
No matter how you spin it, these are the next ten online slots at SlotsLV Casino that will keep the energy up after New Years, and help you swing into 2022 with your bankroll rolling in the wind and picking up jackpots.
21-30, here we come!
30. SAVANNA KING
They're terrifying, magnificent, and exotic all at once, and these creatures of the savanna are roaring, cawing, rumbling for you to come over and join their habitat. You can jump on the rhino as the second-highest paying symbol and hold on to his horns as he rumbles towards the zebra and giraffe.
Over 1,024 ways, you'll be picking up free spins via the scatter, with wilds multiplying together during this round up to 64X. When the race is over, you and the rest of the savanna will stop dead in your tracks as you face the one and only, the highest paying creature of the wild, the Savanna King, the Lion himself.
29. GANESH'S BLESSING
Ganesh is the god who removes all obstacles, and in this best online slot, he is removing any obstruction that might stand in your way of having a rich and fulfilling 2022!
When you receive his full blessing within the free spins feature, the reels rotate 90 degrees a total of four times for each spin, evaluating your line wins for each rotation. Scatters can add even more free spins, and you'll be soaking up the nectar from the pooja for Ganesh's Blessing for months to come.
28. GOLD RUSH GUS
Gus is your buddy from back in the day, and he's returned on a whim to scoop you up for another adventure, just like the old days.
As the two of you pals pack up your pickaxes and strap on your hard hats, Gus leads you to a brand new spot of Earth that was missed in every gold rush in history. You swing your pickaxe and dig in your shovels, and what's revealed underneath has you awestruck. Diamonds, gems, free spins, a go kart bonus round, and three different jackpots (including a huge progressive jackpot!) are all beneath the surface in the wealthiest, most graphic-rich game of 2022.
27. BULLET PROOF BABES
Speaking of the old days. If you remember playing Street Fighter as a kid, then this game is sure to conjure up fond memories and send a familiar tickle surging through your trigger finger.
These Bulletproof Babes have special POWer in their hands. When their fists collide, they can summon the Moon on the first reel and have it double your bet, or erect a Temple on reel five. The Moon and the Temple together trigger 25 free spins along with a multiplier that steadily increases from 1x to 10x. And if you're really lucky, they may even give you their progressive jackpot slot at random.
26. SUSHI WINS: REELS AND ROLLS
Whether you're feeling peckish or completely ravished for a good meal, there's something for everyone on these five Sushi Wins reels. Sushi rolls of all kinds are rolling through the lunch board. Dive in and indulge as much as you please, but watch out for that wasabi. It adds a pleasant kick to the sauce, and if you dare to bite off more, it'll expand its hotness over the entire third reel.
Even more delicious is the hot sake appearing on reels 1, 3, and 5. The sake won't only add a pleasant glow to your afternoon, it'll also award up to 10 free spins where your wins are doubled.
25. CAT KINGDOM
There's a new boss in town, and this furry feline fancies himself the King of the living room. Clearly this cat has been hitting it hard on the tuna and the cat food, and his rotund belly will only grow bigger as his human subjects give him pets and tickles.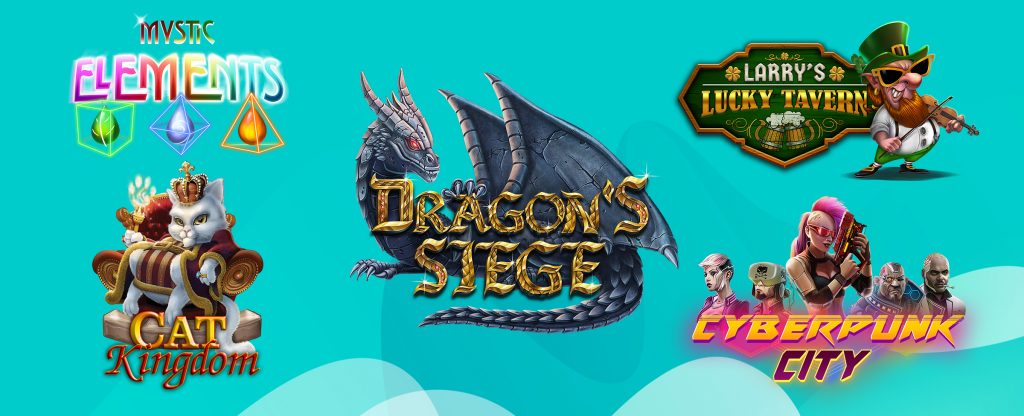 Your cat may have overtaken your home, but all those times you've scratched between his ears have not been forgotten. In Cat Kingdom, King Kitty will award you with up to 30 free spins by way of the scatter presented as his castle (which he likes to remind you, used to be yours), and he'll generously transform low paying symbols into higher ones in your honor.
24. DRAGON'S SIEGE
Just beyond the pits of fire and doom is a castle with endless towers that pierce through the blood-red sky. Your mission in Dragon's Siege is to fight the dragon's that guard the stone gates, and break inside to collect the random progressive jackpot treasure that was meant to be yours.
As you find your courage, you travel through the castle's grounds in search of the bridge on reel one. Join it with the gate just ahead on reel five, and free spins are ignited in a flurry of fire. Further inside the castle is the online slot bonus feature where your journey leaves you with a choice of three brave characters to help you finish your quest.
23. LARRY'S LUCKY TAVERN
Larry is always up for a good time, and his tavern is full of old familiars in the quiet and peaceful Irish meadow. If the mood strikes you, feel free to pick up the fiddle and do a little dance. Grab the pipe and take a puff, or even better yet, accept these frothy beers, and enjoy three free spins with 3x multipliers on the house. You can even retrigger them for more, if you stick around.
As the beers start to kick in at Larry's Lucky Tavern, you may find yourself wishing for a bit more. In that case, just grab these bonus symbols and Larry will take you out back. Choose one of his three barrels, and you'll be stumbling over with thanks.
22. CYBERPUNK CITY
This dark and dilapidated Cyberpunk City has its own idea for the future, and you'll want to keep your wits about you as you navigate these dreary streets in search of loot.
A crew of cyborgs help keep watch as you rifle through dark alleyways, and any high paying symbol can randomly turn wild at any time. Be sure to call out if you see something good, because that might be the progressive jackpot that could strike at random, and you and your cyborg crew will be partying like a bunch of punks in the year 4022 at SlotsLV.
21. MYSTIC ELEMENTS
The universe is a vast and mysterious place, with wonders beyond what the eye can see. The Mystic Elements are all around us, with wind whirling past our skin, earth staying strong beneath our feet, water gushing through the seas, fire heating up our backs, and light illuminating the riches up ahead.
You'll want to follow this light as best you can, as landing just five of them will award you the progressive jackpot, which is a fortune that could only be conceived of when all five elements of the universe come together to bless one human with the right set of luck.
This edition of 2022's Must Spin Slots has been our midway point through the Top 50. You've already got choices upon choices right in front of you, and plenty of new worlds, adventures, and jackpots to keep you busy. Once you've exhausted every last corner of every last world, yet another instalment of the very best slots to spin in 2022 will be patiently waiting for you, ready to up the ante and pump the volume a little louder.